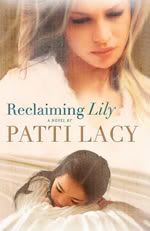 About the book:
A storm the size of Texas brews when Gloria Powell and Kai Chang meet in a Ft. Worth hotel. They have come to discuss the future of Lily, the daughter Gloria adopted from China and the sister Kai hopes to reclaim. Kai is a doctor who had to give up her little sister during the Cultural Revolution and has since discovered that an inherited genetic defect may be waiting to fatally strike Lily.
Gloria's relationship with her daughter is tattered and strained, and the arrival of Kai, despite the woman's apparent good intentions, makes Gloria fearful. Gloria longs to restore her relationship with Lily, but in the wake of this potentially devastating diagnosis, is Kai an answer to prayer–or will her arrival force Gloria to sacrifice more than she ever imagined?
My Review:
Well she has done it again! Patti Lacy has written a book that has stirred my soul and whispered truth to my heart. Her narration is a fine art that has been toiled over and refined until every intricate detail is stitched together to produce a riveting masterpiece.Patti Lacy understands how people experience life through our senses and she does everything within her author prowess to engage all of the senses (yes, even smell unbelievably) to draw readers into the world contained between two book covers. Nuances of life that seem so inconsequential to those living them suddenly take on a new significance when they are threatened and the characters' worlds are thrown into chaos.
Rich in cultural context, emotion, faith, and love, Reclaiming Lily breathes life into the repressed and forbidden history of China's Cultural Revolution and aftereffects. Lily is the link that bridges the gap between two worlds, two cultures, and two families. She is in a perpetual state of flux trying to consolidate her two identities into one life while being torn between her past and her present. Each character has a specific desire for their future as an individual and as a family, but come to realize that God's plans exceed our greatest imaginations and expectations.
Rating: 9/10

**Review copy provided by Litfuse Publicity**